Our Services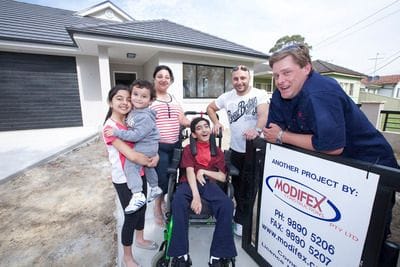 Modifex provides a wide range of services to cater for the specific requirements (needs) of individuals, couples and families with disabilities through to persons who require specialist medical care and need to live independently in a safe and easily accessible environment. Our services include Contract Construction through to Project Management. We co-ordinate and manage every aspect of the project, from assessment, planning and budgeting through to design, approvals, construction and hand-over.
Whether your needs are for an Architect Designed home, Modifications, Extensions, Renovations, Specialist Services, Consultation or Project Management, we have a team of highly skilled professionals to assist in bringing each project, from concept to successful completion.
Andrew Fulton, founder and managing director of Modifex plays a key role in each project and facilitates consultation and communication with all stakeholders. Andrew is widely acclaimed for his ability to not only understand, but significantly improve the quality of his clients' lives through creative thinking and innovative design and construction execution.
DOWNLOAD MODIFEX ACCOMODATION PROJECT FLOWCHART HERE
Modifications
Extensions & Renovations
Specialist Services
Consultation
Project Management
Architect Design & Council Approvals
Finalist National Disability Awards 2012- accessible communities