About us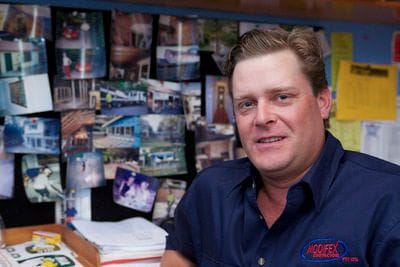 Modifex was founded by Andrew Fulton in 2001. Andrew saw a need for a new and innovative approach to the design and building of residential properties to suit the needs of the disabled and elderly communities.
Today, Modifex is one of the few construction companies of its kind in Australia and provides quality and consultative based services to its clients. We have delivered numerous specialised projects over the years and believe that client engagement throughout each project is key to a successful outcome.
Our approach and experience has enabled us to consistently meet the specific and often, highly specialised needs of our customers, time after time.
Our services range from property suitability inspections, to site selection, modifications, extensions, renovations, new build projects, project management and specialist build services such as wheelchair friendly homes to suit a variety of individual needs.
We also offer construction consultation and advice on design, accessibility and other modifications that need to be considered when designing or purchasing a home suitable for persons with special needs.
We are committed to preserving the environment and minimizing the environmental impact of our project. Where possible, rainwater tanks, solar panels and energy efficient devices are incorporated into our early project planning. Environmental considerations are also integral to our management process and in our proposals to enable ongoing cost-efficient running costs and property maintenance..
Finalist National Disability Awards 2012- accessible communities